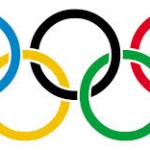 Here's some sites for you to check out about some ministry that has been happening since the start of the Olympic games:
The Earl Brackin Christian Bluegrass Band has been doing impromptu concerts and sharing the gospel. 
The "Engage Sochi" ministry team is on site making friends and telling others about God's great love. They are finding many open to the gospel. Read some of their testimonies here.
SOAR Ministries is helping local Russia churches with Hospitality Centres. (Article here.)
An Oklahoma based singing group has also been ministering in Sochi with great results.
Athletes in Action has staff and leaders in Sochi ministering to Olympians. They have direct access to athletes as they serve as chaplains, advisers, counselors, and other positions. Pray for them as they seek to share Christ.
Lord, we pray for all those who are in Sochi who need You. Please lead them to one of your people who could share your love with them.