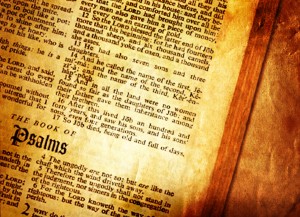 Psalm 34:18 says, "The Lord is near to those who have a broken heart." If you were someone who was touched by the ministry of Bob Coy and Calvary Chapel Fort Lauderdale, your heart is hurting right now. Yesterday, I wrote some thoughts I had about his resignation. (You can read that here.) The purpose of this post is to encourage us to be keeping our eyes on Jesus.
The whirlwind and desperation that many are going through will not quickly fade. What do you do with your thoughts and feelings and pain? The best thing that we can do in times like this is to go to God through prayerful reading of His Word. Keeping our eyes on Jesus happens as we keep our eyes in His Word, the Bible.
Is your heart broken? Are you grieving? When this is the case, I would suggest spending much time in the book of Psalms. Here's some verses to get you started; of course, you could add many more.
He is our strong refuge, our rock and fortress to which we may resort continually. (Psalm 71:3)
"God is our refuge and strength, A very present help in trouble. Therefore we will not fear, Even though the earth be removed, And though the mountains be carried into the midst of the sea; Though its waters roar and be troubled, Though the mountains shake with its swelling. Selah There is a river whose streams shall make glad the city of God, The holy place of the tabernacle of the Most High." (Psalm 46:1–4)
"For this is God, Our God forever and ever; He will be our guide Even to death." (Psalm 48:14)
"Those who trust in the LORD Are like Mount Zion, Which cannot be moved, but abides forever." (Psalm 125:1)
"If You, LORD, should mark iniquities, O Lord, who could stand? But there is forgiveness with You, That You may be feared. I wait for the LORD, my soul waits, And in His word I do hope." (Psalm 130:3–5)
"LORD, my heart is not haughty, Nor my eyes lofty. Neither do I concern myself with great matters, Nor with things too profound for me. Surely I have calmed and quieted my soul, Like a weaned child with his mother; Like a weaned child is my soul within me. …hope in the LORD From this time forth and forever." (Psalm 131:1–3)
Here's a verse about keeping our eyes on Jesus: "It is better to trust in the Lord than to put confidence in man."
Lastly, my mind goes to Habakkuk 3:17-19:
"Though the fig tree may not blossom, Nor fruit be on the vines; Though the labor of the olive may fail, And the fields yield no food; Though the flock may be cut off from the fold, And there be no herd in the stalls— Yet I will rejoice in the LORD, I will joy in the God of my salvation. The LORD God is my strength; He will make my feet like deer's feet, And He will make me walk on my high hills.
Precious brothers and sisters, see this as a time of ministry. Allow the Lord to minister to you. And you minister to others: continue making disciples as you have been taught.
As we are keeping our eyes on Jesus, we will continue to carry His message of hope to the world. The Good News is still good! Jesus is alive and well! His mercy endures forever and He still changes lives! That will never change.